Sabin Dam Removal Update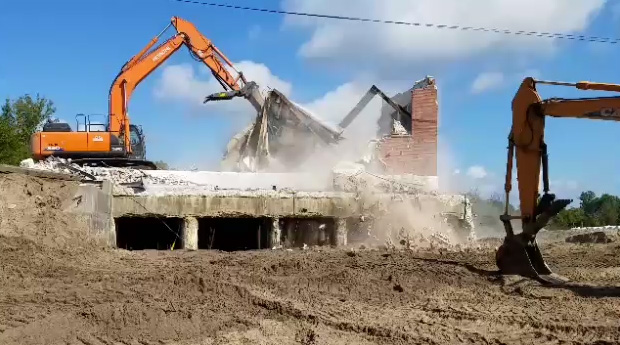 Sabin powerhouse comes down on September 25, 2018. Sabin dam was built and re-built in the years 1906, 1914 and 1930. With the removal of the powerhouse a milestone is met and the river is that much closer to being returned to a free flowing stream.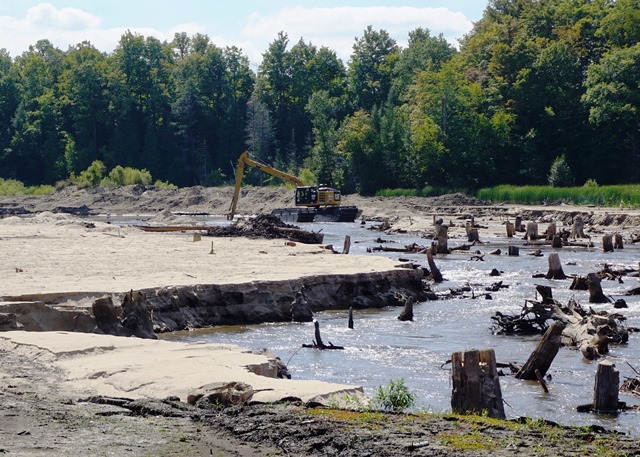 An amphibious excavator removes sand and muck in search of the relic river channel. Tree stumps dot the landscape of the former Sabin pond, reminding us of a forest that once was.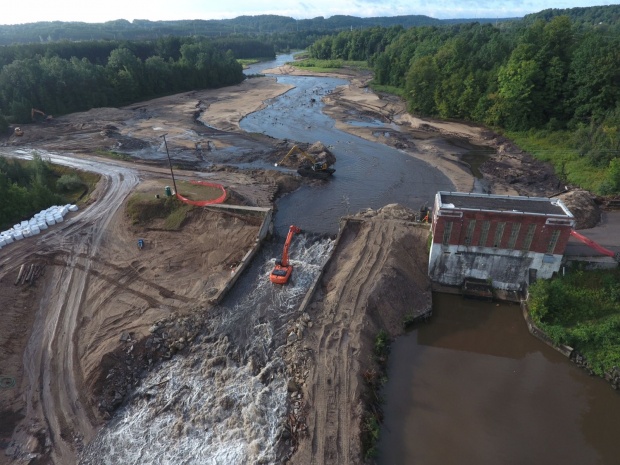 Looking upstream at the Sabin spillway and powerhouse prior to demolition.
Removal of the Boardman and Sabin Dams will return the Boardman to its natural state - a free flowing river with high quality cold-water habitat. The process of removing the dams will result in the downstream transport of riverbed materials such as silt, sand, and organic matter. This is a natural and expected result of the project.
Since the removal of Boardman and Sabin dams, fine sediments have moved downstream and have deposited in the south side of Boardman Lake. The recent rain events in the Grand Traverse Region in late August and early September more than doubled the flow of the Boardman River from 200 cubic feet per second to a spike of 590 cubic feet per second, accelerating the sediment transport to Boardman Lake. These sediments comprised of silt, muck, and sand are now visible at the south end of Boardman Lake. This area is an active river mouth; similar to where the Pere Marquette River enters Pere Marquette Lake and where the Manistee River enters Manistee Lake. The project team understands that the current changes in Boardman Lake may be noticed by residents and visitors, and asks for patience as natural forces and time work to return the lake and river to its normal clarity.

Over 100 years of sediment had accumulated in the impoundments of the Boardman and Sabin dams. An estimated 290,000 cubic yards of sediment was managed as part of the Boardman Dam removal and an estimated 103,000 cubic yards of sediment is being managed as part of the Sabin Dam removal. All sediment management practices have been reviewed and permitted under the USACE and MDEQ joint permit.

Since the end of July, the contractor at Sabin Dam has been working diligently to capture sediment from the former Sabin pond. To date, the contractor has removed 16,800 cubic yards of sediment from seven constructed sediment traps in the river channel, and removed an additional 40,000 cubic yards of sediment through channel and floodplain excavation. Sediment management will continue throughout construction, and increased levels of turbidity downstream are expected during this period. Turbidity levels are being monitored by the team.

Four areas between Sabin Dam and South Airport Road Crossing are being actively monitored by project partners for movement of sediments. Sediment is moving as expected and there are no impacts on river function between Sabin Dam and South Airport Road culverts.

Caution is advised for paddlers and anyone entering areas where sediments have visibly deposited as they can be extremely soft and difficult to traverse.

Above photo credits: Top- Alec Higgins, USACE Middle- Kimberly Balke, CRA Bottom- Grand Traverse Band of Ottawa and Chippewa Indians

For video footage and an explanation of Sabin dam removal activities to date please check out the following link on the Nature Change website: https://naturechange.org/2018/09/15/bringing-down-sabin-another-step-in-restoring-the-boardman-river/

Contact Nate Winkler or Kim Balke, CRA Project Managers, with questions at nate@rivercare.org, kim@rivercare.org or call (231)946-6817.

Visit rivercare.org for more information on CRA's projects or to make a donation.