Maple River Update - Week of September 10, 2018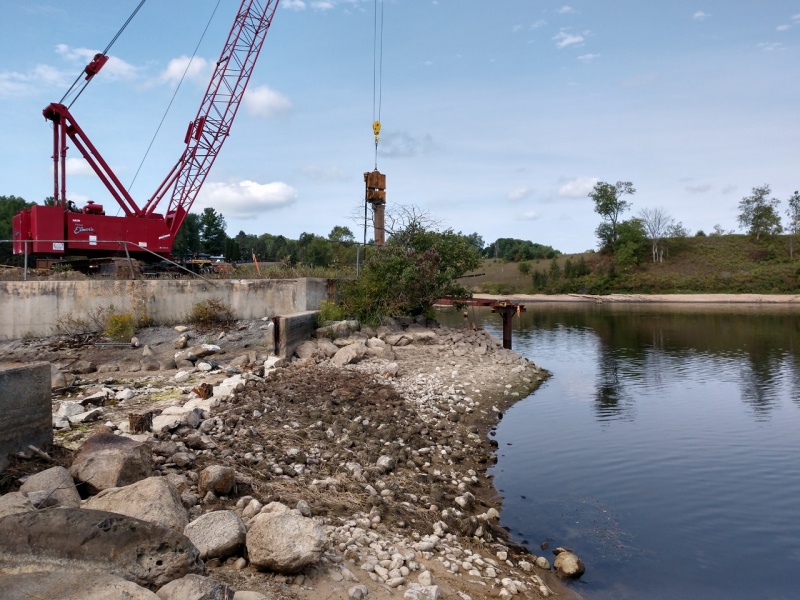 As reported last month, the removal of the Lake Kathleen dam and replacement of the Woodland Road crossing over the Maple River is fully underway. Contractors have been operating the installed siphons to slowly draw down the pond behind the dam on the Maple River. The old culvert tubes that comprise the existing Woodland Road crossing are scheduled for removal this week. This process, along with other site work, is likely to increase signs of turbidity (discoloration of water) downstream from the project. This activity will result in mobilization of fine sediments and organic material causing the temporary increases in turbidity. Turbidity levels are being monitored by the project team throughout the project. The river will gradually clear and continue to heal after the project is complete.
At this time, the project is on schedule, with an expected completion of the construction phase by mid-November. Ongoing monitoring and restoration activities will resume next spring. No fish relocation has been necessary thus far; fish in the impoundment have access to water and habitat upstream.
Due to the level of construction activity currently underway, no unauthorized visitors should enter the site during the next two months.
Contact Chris Pierce, Project Manager, with questions at chris@rivercare.org or call (231)946-6817. Visit rivercare.org for more information on CRA's projects or to make a donation.