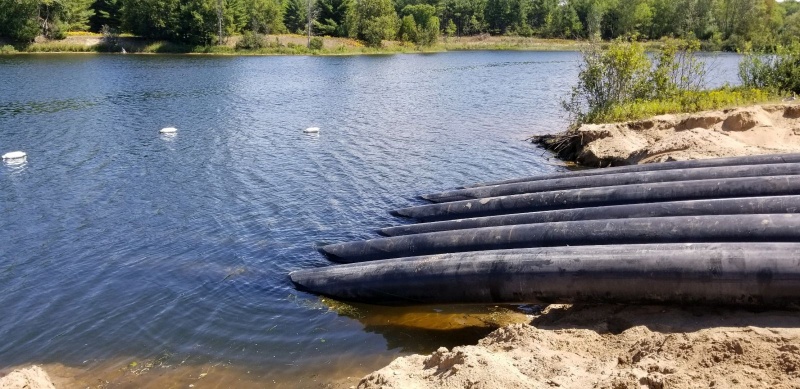 After years of planning, design and fundraising, the removal of the Lake Kathleen dam and replacement of the Woodland Road crossing over the Maple River is fully underway. Contractors will begin the siphon operation this week to slowly draw down the pond behind the dam on the Maple River. This is a big first step in the process of opening up the river.

It is expected that the river will show some signs of turbidity (discoloration of water) downstream from the project. Flows may increase downstream, but will not exceed those typically seen during the spring or early summer. This activity will result in mobilization of fine sediments and organic material causing the temporary increases in turbidity. Turbidity levels will be monitored by the project team throughout the project.

Controlling the downstream movement of sediment during dam removal and bridge construction is a key goal of the project design, and is addressed thoroughly in the MDEQ permit (available to view here). The project plan uses a sump, or 'sediment trap' during drawdown of the pond to capture and remove most of the sand sediment that is mobilized. The sediment trap will be monitored and maintained throughout the project, and potentially for a period after dam removal. Erosion control measures will also be used during removal of the Woodland Road culverts and construction of the new free-spanning timber bridge, expected to occur in the next two months.

Even with these practices, the project team expects some fine silt and sediment to move downstream for a period of time. Especially during heavy rains, the river downstream may look cloudy. In the years following dam removal, the river will return to a more natural state, moving normal amounts of sediment, like it did before the dam was constructed. The river will gradually clear and continue to heal after the project is complete. Stay tuned for further updates as each important stage of construction occurs.

Contact Chris Pierce, Project Manager with questions at chris@rivercare.org or call (231)946-6817.
Visit rivercare.org for more information on CRA's projects or to make a donation.