Thanks for reading!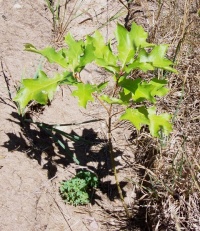 Greetings!
Spring seedling planting time is just around the corner! As someone who has made a donation to CRA in the last year, we'd like to say thank you with our annual free seedling give-a-way.
There are a limited number of free bare-root seedlings – early reservations are encouraged. The seedlings should ideally be planted within a week, preferably in the first day or two after receiving them. Please order seedlings in bundles of 25* with a limit of 50 of any one species. Limit 150 total seedlings per household.
Orders will be taken through April 9 or while supplies last. Seedlings must be picked up in person on Friday, April 20 from 9am-12pm behind our office in the upper parking lot (map). They will be packed and ready for pickup but we recommend you bring a box or tarp to protect your vehicle.
Learn more: 2018 Seedling Give-A-Way
*If you'd like less than 25 seedlings of a single species, we will have a limited number available on a no reservation, first come, first served basis.
Thank you for support!
Casey Ressl
Annual Gifts Coordinator
Conservation Resource Alliance
10850 Traverse Hwy. Suite 1180
Traverse City, MI 49684
ph: (231)946-6817
casey@rivercare.org
www.rivercare.org
Thank you!