Thanks for reading!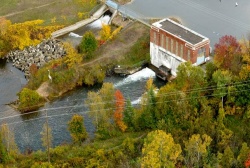 John Russell – Great Lakes Images LLC
The Boardman: A River Reborn Rallies Support
Partners are gearing up for a very big two years on the Boardman River. We have several new funding announcements to share, plus some recent media buzz.
Rotary Charities of Traverse City is leading efforts to engage private investments for Sabin Dam removal through foundation grants, private donations and other non-public sources. As a result, we are pleased to share the announcement of two new major grants to support the removal of Sabin Dam (right) slated to take place in 2018 - the third dam targeted in The Boardman: A River Reborn.
The Grand Rapids-based Frey Foundation recently awarded a $315,000 grant to Conservation Resource Alliance. In addition, the Wisconsin-based Brookby Foundation awarded CRA a grant of $100,000. These grants join funding committed from the City of Traverse City, Grand Traverse County and the Grand Traverse Band of Ottawa & Chippewa Indians as well as a strong partnership of private funders including Rotary Camps & Services and Rotary Charities of Traverse City, The Oleson Foundation, The Conservation Alliance, Patagonia and Trout Unlimited.
Read more at The Boardman: A River Reborn
Thank you!